July 14th 2023 – Fitchburg, MA Market research technology and survey programming company, Jibunu introduces push notifications for longitudinal research.
A demo showcasing push notification examples is available now, and the new feature will be added to the Jibunu platform in the coming weeks.
What are web push notifications?
Web push notifications are a popular tool used to deliver timely content and engage users. With Jibunu's web push notifications, messages can be sent from the web app (survey) directly to a respondent's device, ensuring high visibility and easy engagement. These notifications work seamlessly on both mobile and desktop devices, even if the survey is not currently open.
How do they work?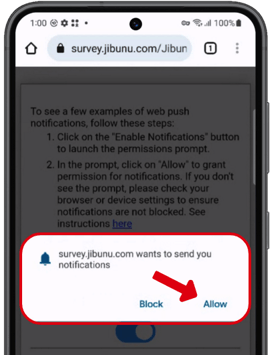 If the respondent's device settings allow push notifications, they will see a permission prompt. By selecting "allow" in the prompt, the browser grants permission to receive notifications. Respondents need to grant permission for each survey individually. Once permission is granted, push notifications can be triggered based on user activity and/or time-based conditions.
How to use them for surveys?
Web push notifications can be used to effectively notify and remind a respondent to complete actions. For example, a push notification can be sent to inform respondents participating in a diary study, discussion board, or multi-day survey when the next task is ready. Additionally, reminder notifications can be sent to those with an unfinished task or survey, keeping them engaged and on track.
The respondent's push notification permission status is recorded in the data and for additional insights into respondent engagement, by request we can track whether or not they clicked on any push notifications.
"This functionality can revolutionize the way we do longitudinal studies and reminders." says Ken Berry (President) "In addition to having the ability to send notifications to respondents, we are able to do it without collecting PII and in a way that is seamless and easy for the respondent."
Click or Scan Below to See Push Notifications in Action
---
---
---
About Jibunu
Jibunu (http://www.jibunu.com), founded in 2003 provides survey programming and technology solutions to the market research industry. They are most widely known for their online data collection services but have many peripheral offerings.
---
Jibunu's proprietary platform gives them the flexibility to create solutions for both qualitative and quantitative research. They specialize in complex, custom projects including conjoint, max-diff, system 1 techniques, diary studies, segmentation algorithms, advanced logic or graphic/multimedia needs, and multiple languages, all with superior speed, service, and pricing.
Jibunu services dozens of market research firms and departments, large and small, in industries including healthcare, financial, hi-tech, B2B, and consumer research, offering them the confidence and flexibility to execute their research vision online.